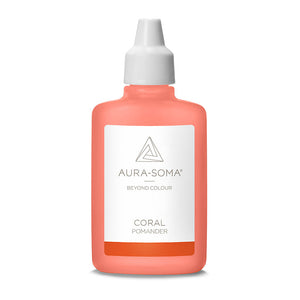 Coral Pomander
Information
Essential Oils*: Bergamot, Sweet Orange, Mandarin, Cedarwood (*organic or bio-dynamically grown)

Crystal Energies: Calcite, Zincite, Topaz, Fire Opal, Carnelian

Aura-Soma Pomanders are created with a unique blend of essential oils and botanicals grown in biodynamic and organic environments, in a vegetable-derived organic alcohol solution. Each combination has been further enhanced with spagyric tinctures of crystals, and the highly potent Aura-Soma energising process. Each Pomander contains varying concentrations of 49 herbal extracts (7 x 7 for the 7 sub-levels of the 7 chakras). Seven herbs relate to the specific colour of the Pomander, and the other 42 herbs relate to the more subtle energies and potencies.
Description
THE AWAKENER
Love wisdom, to love and care in a new way

Aura-Soma Pomanders were developed to protect and refresh your physical and emotional being and the colourful electromagnetic field, or light body, surrounding your physical body, often referred to as the aura. The auric body, like the physical, can become damaged by trauma or simply day-to-day stress. The regular application of a Pomander around your energetic field can strengthen vulnerable areas. Kirlian photography has shown this protection as a bar around the aura that lasts up to several hours after application of the chosen Pomander. In addition, using a Pomander helps to set an intention that as you protect and purify your own personal light, you will also be offering a protective and refreshing effect on everyone you encounter.

FRAGRANCE: Floral, Spicy, Musky

QUALITIES: An awakening pomander that can bring a deep sense of joy. Can help us to love and care for the self in a new way, encouraging us to be being kinder to ourselves in all situations. May help to bring us back into the flow of our lives with acceptance and joy. Stimulates a spirit of co-operation and an understanding of interdependence.
How to Use
Carry along your favourite Aura-Soma Pomander to help calm, clean, and stabilise yourself and personal space, wherever you go.

Place 3 drops in the palm of your left hand, rub together with your right and pass through and around your aura and chakras to surround yourself with a delicate protective web of refreshment that lasts for several hours. Finish by inhaling the fragrance from between your hands with three deep breaths.
Regular price

Price:

$50.55

Sale price

$50.55

Regular price
Tax included.
Shipping
calculated at checkout.
&nbsp
Adding product to your cart
Use left/right arrows to navigate the slideshow or swipe left/right if using a mobile device